Located in scenic Northeastern Pennsylvania, Glen Oak Country Club offers a complete banquet facility for all occasions, including elegant weddings, private parties, fundraisers and corporate & golf outings. The state-of-the-art clubhouse includes two outdoor patios, a formal dining room and bar and a casual Grill Room and bar. The outdoor and formal dining areas overlook the Club's golf course and afford combined seating for over 200 people during the peak months of the summer when the weather is at its finest.
From the moment you drive through its beautifully manicured golf course and lush landscaping, it will be apparent that Glen Oak is a special place and a one-of-a-kind, luxurious facility that is perfect for a country club wedding or private event.
The Club offers a variety of seated dining and buffet packages to choose from, or the opportunity to create your own personal experience, with the assistance of our on-site, event planning professionals, who are dedicated to ensuring your event is everything you dream it to be.
Looking to plan your next event at Glen Oak Country Club? Let's talk!
For more information, please contact Special Events Coordinator, Jeff Spagna, CCM, at (570)587-7607 or email him.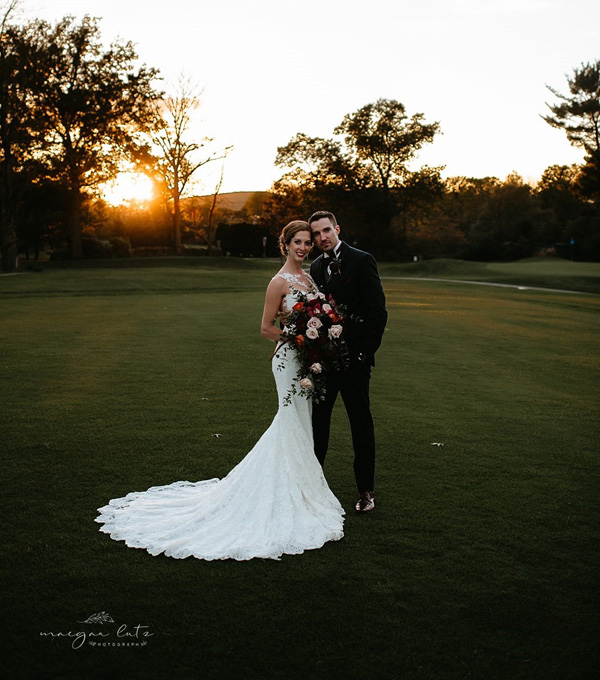 Whether you are planning a reception for 80 or 180, Glen Oak provides the perfect venue for your special day. Start your guests off with cocktails and hors d'oeuvres on the Club's front patio and then offer a delicious sit-down dinner or buffet in the Formal Dining Room, planned and cooked by highly regarded veteran culinary staff.
Additional services, such as entertainment, musicians, floral creations, photography, video production and limousines are also available, and can be included within wedding packages for an additional fee.
The Club's Special Events Coordinator, Jeffrey Spagna, CCM, has successfully planned and coordinated well over 600 weddings. Having earned the much-coveted Certified Club Manager status, he is one of less than 25% of over 6,800 club managers worldwide to have done so and is the only CCM at any of the local clubs.
For more information, please contact Special Events Coordinator, Jeff Spagna, CCM, at (570)587-7607 or email him.
From private partiers to corporate outings, Glen Oak can accommodate groups of all sizes – for any occasion!
Glen Oak provides the perfect venue for all types of parties, whether you are celebrating a birthday, an anniversary, a graduation or any other special day with your family.
If you are searching for the perfect location to plan a fundraising event, look no further than Glen Oak. Our professional staff will handle all of your requests in order to plan a gathering that will be sure to please you and your guests.
Glen Oak is a frequent host for all types of corporate outings and related events. Whether you are looking for a full day of golf and dining, or simply planning a luncheon or dinner party, the Club is here to serve you.
Glen Oak currently plays host to approximately 15 charitable golf outings each year. Our professional golf staff will handle all of your arrangements, from shotguns to cart assignments and all of your requested skill contests. Our Club Manager is also available to coordinate all food & beverage details.
For more information, please contact General Manager, Jeff Spagna, CCM, at (570)587-7607 or email him.